Our Knitting Process
How an Alpaca Sweater is Knit at Inca Fashions
Inca Fashions Redefining 'Natural' Fashion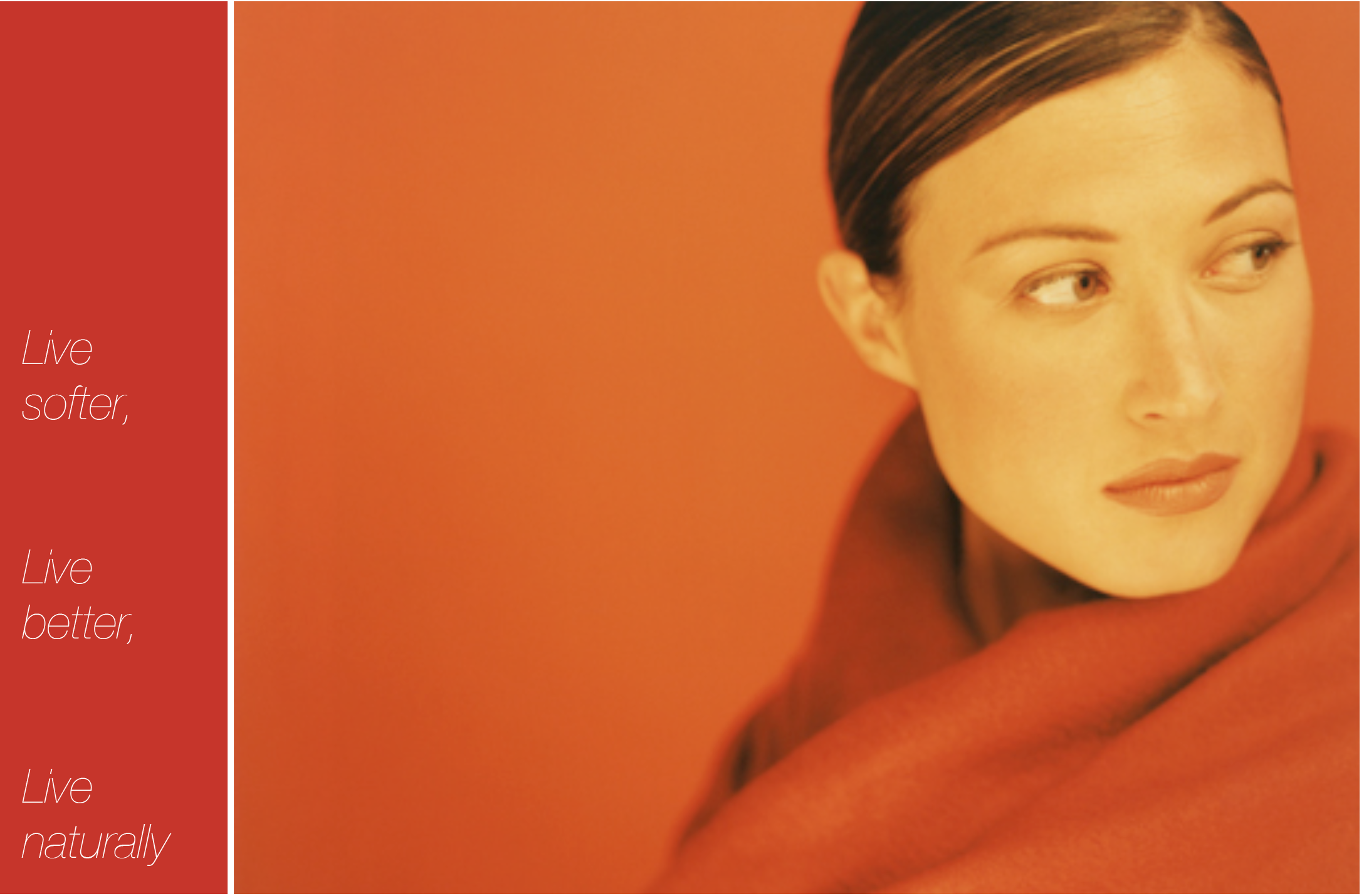 If you think "eco-friendly" refers to being rustic, expensive or complicated, than you need to take a closer look at Alpaca in today's fashion. Inca Fashions is redefining "eco-friendly" garments through the use of pure, 100% natural Alpaca as a friendly form of affordable fashion knits that reach the pinnacle of attraction and luxury.
Looking good doesn't have to be more important than feeling good. With Alpaca, both are possible. Kimberly DeVos Brooks has been designing earth friendly garments that satisfy form, function and fashion since 1999. Inca Fashions has proven that fashion can feel as good as it looks.
Designed right here in the USA, her line of knits embody the most important elements of fashion; color, pattern, texture and shine, for both men and women. Knits to pullovers, hoodies to shawls, these styles aren't your parent's sweaters. Inca's garments are inspired. Born of Kimberly's travels around the globe, and ranging from urban to retro, each style truly is one of a kind.
Alpacas produce a very fine and light fleece. It does not retain water but is naturally water-repellent and wicks moisture, is thermal even when wet and can resist the solar radiation effectively. It is soft, durable, luxurious and silky natural fiber; while similar to sheep's wool, it is warmer, not as prickly, and has no lanolin which makes it hypoallergenic. This natural composition protects the alpaca from extreme changes of temperature. Thus, alpaca fiber offers the same protection through their garments that we wear. Alpaca is sustainable as a fiber, is naturally organic and grows dye free in over 22 shades. Kimberly highlights those natural 22 shades in her garments. Some pieces are designed to illustrate the naturalness of the fiber, while others are more artistic and fashion forward. Annual shearing and production into yarn are natural processes, free from harsh chemicals, making alpaca one of the greenest and most friendly textiles on earth.
Inca Fashion's collections bring together natural beauty, with vivid colors, to create earth friendly clothing that is as stunning, as it is head turning.
Hand knitting machines - This process, in its simplest form, produces flat pieces of alpaca knit on a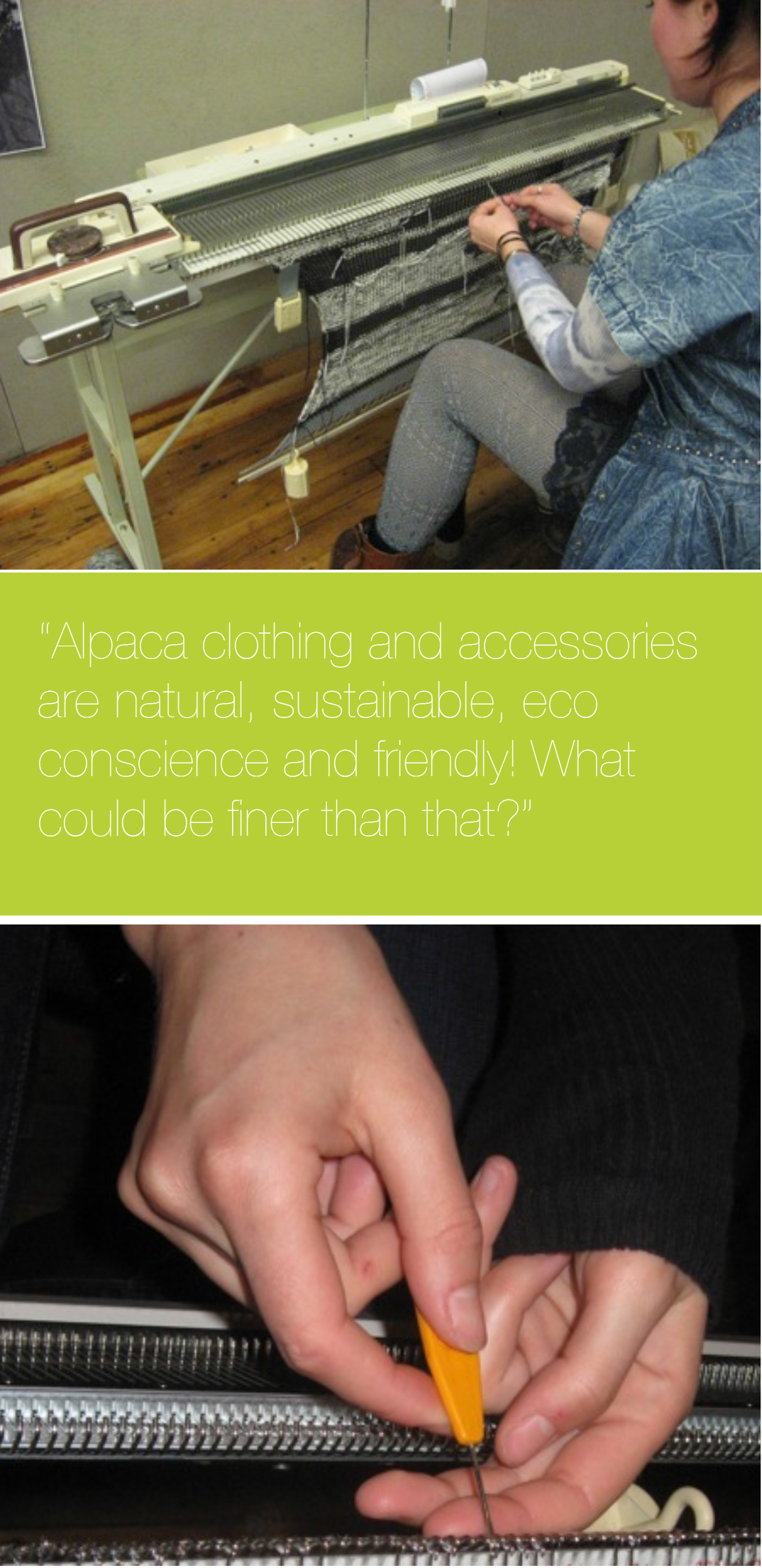 long, narrow bed of hooks that hold loops of yarn. The artisan pushes a carriage threaded with more alpaca yarn over the hooks, which catch the yarn from the carriage and pull it through the loops, creating new loops. This row of knitted stitches drops down below the new loops. The knitter then pulls the carriage back in the opposite direction to create another row. Knitting machines turn out fabrics with very even rows of stitches.
We use knitting machines in both fine and medium gage configurations. Fine gage machines are used for baby alpaca silk and very fine-knit alpaca sweaters. Medium gage machines knit heavier yarns, with results that more closely resemble those of traditional hand-knitting.
The main advantage of knitting on a machine is speed. We estimate that a craftsman can produce between about 500 to 800 stitches per minute, depending on their experience, and up to 20 inches of 100-stitch-wide fabric in about 5-8 minutes. To boot, every stitch in the work will be perfectly even. We don't push for speed however; we strive for quality, thus the variance in production time. This semi automated aspect allows us to keep costs affordable for garments.
Seems simple, right? Well, any stitch more complicated than a knit jersey stitch requires the artisan to use an attachment or to manipulate the alpaca on the hooks by hand. We also use punch cards to produce cables and basic ribs (knit 1, purl 1, or a variation thereof) when making such things as our Baby Alpaca ribbed turtle neck which has the same rib throughout. Often trims such as the waistband and sleeve cuffs, or decorative trim is knit using these punch cards and then hand affixed to the garment. From start to finish it takes about 6-8 man hours to make a sweater in this manor.
Often times we take the garment off the machine and knit more complex decorative elements by hand as is done in our Destiny Hoodie or hand embroidered elements are added.
So now you understand the "hand" element in our alpaca knitting procedures. Our goal is to always provide the finest alpaca quality sweaters available for the best value.
We also make sweaters hand knit with the traditional knitting skills of our artisans heritage. These are passed down from generation to generation, often over hundreds of years, and form the ground work for the beautiful, detailed needle work in our alpaca garments. Each garment that is hand-knit is knit entirely by one individual as part of a small knitting group, or community, not a factory. The time it takes to knit a sweater of this type is double or triple that of knitting machines.
We pay Fair trade wages and allow the artisan to take the time necessary to create their works of art. The utmost care is taken throughout the entire process and the result is great fit, excellent quality hand-knit alpaca sweaters that are current yet show off the artists traditional skills. Inca Fashions is proud to be able to offer products that empower women, support communities; that are eco friendly and sustainable.
Regardless of our manufacturing process, Inca Fashions' goal is to always provide you the finest alpaca sweaters available for the best value.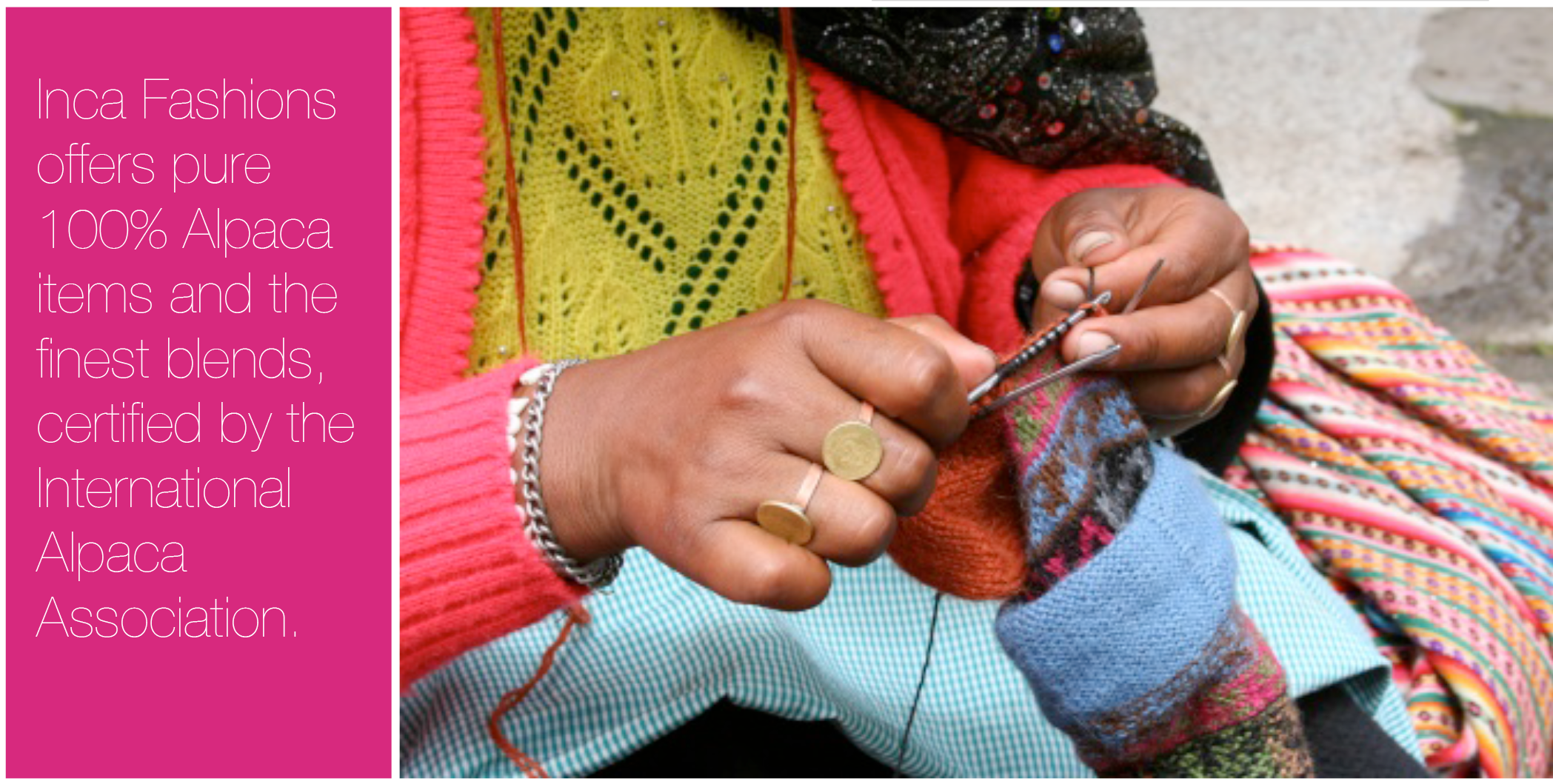 We do not use industrial computerized knitting machines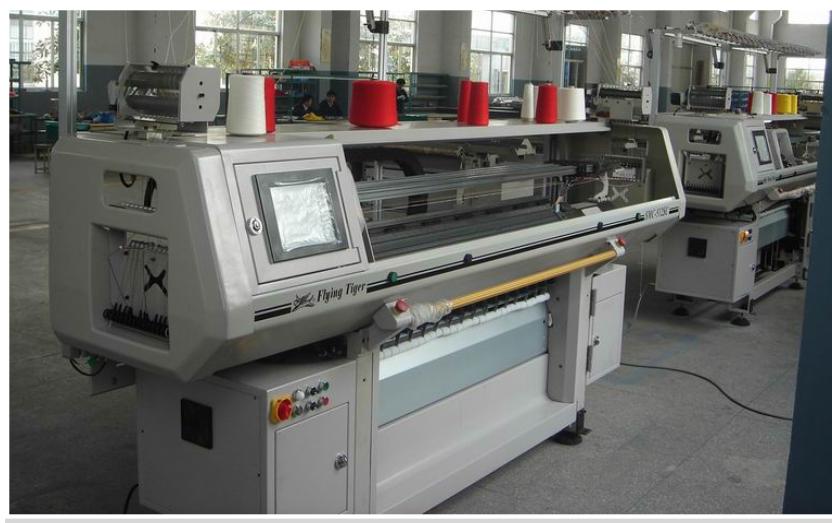 Industrial Machines like the one featured here, called the "Flying Tiger" are driven by a computerized program and pump out hundreds of units a day. They knit panels and then the panels are stitched together. This high production knitting offers the lowest price and the worst quality. The steps are automated thus problems can arise, knitting can be slightly off, gage slips can arise, the matching of pieces can be improper and or defects in the yarn, colors or snags, can be missed. High production companies utilize machines similar to this one. One person controls several machines, often their only purpose to replace the spools of yarn when they run out.