How We Design
How We Design
Our designer and founder Kim DeVos-Brooks sums up her journey to becoming a designer as "a love affair with sweaters". In this interview, she explains how she got her start and describes her design process today.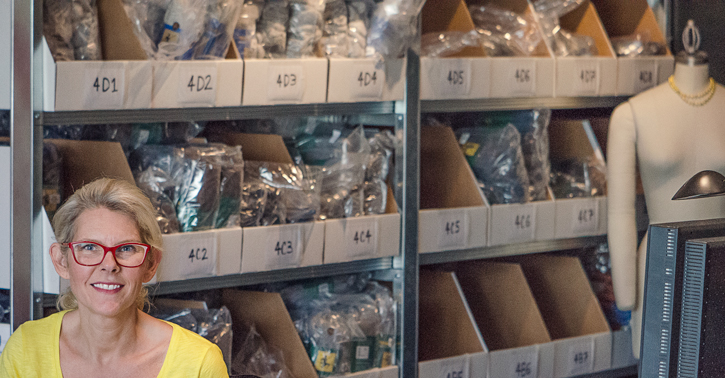 When did your passion for knitwear begin?
"I love sweaters; it's just that simple.
I remember my first sweater, striped wool, in purple and berry, with a crew neck, circa 1979. I loved the color and the fit-- it felt so good, snuggly and cozy, perfect for my northeastern upbringing. I didn't know it at the time, but sweaters were to become a focus, some might say an obsession.
Wool sweaters, cashmere, bulky knits from Ireland, fine Italian knits, silk sweaters, summer cotton sweaters, even those 1990's holiday sweaters that I can't believe I wore… I loved them all. When I met alpaca sweaters, however, that was something special…"
Why alpaca sweaters?
"Back in 1997 I had just had my first introduction into the world of alpaca and when I found that alpaca made fine sweaters and knits, I knew I had to take one for a whirl.
I found one by happenstance in a ski shop and purchased it on the spot. From the onset it just felt different than all the rest in my closet, special. I was far more cozy and comfortable wearing it. It was lighter than that of other sweaters and had a refined look with a subtle glow to the alpaca. After extended wear I didn't get too hot, nor did I feel like it was swallowing me up, which often happened with wool and the gang of other sweaters I had purchased over the years. It wasn't itchy and didn't have any odor. I was hooked."
What inspired you to start your knitwear line?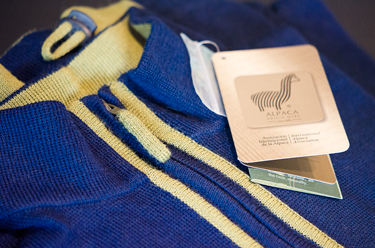 "I set out to find more alpaca sweaters in the marketplace and what I found were matronly tunic sweaters, shapeless cardigans, often hairy, with no softness, no shine like the first one, no redeeming qualities whatsoever.
I was in my early 30's and the pieces that I found had no style, no color, no vim, no vigor, no oomph! I later found that the bulk of the sweaters I was looking at, although marked as alpaca, were llama or wool/acrylic marketed as alpaca, clearly misrepresented. Most were South American in design with Nazca lines or weird bird motifs in neutral colors. The sizing was all over the place, mediums that were so tight they had been made for tiny women or so huge the sleeves hung to the knee. I thought that there had to be someone out there making desirable alpaca sweaters that I would actually wear. I couldn't find a one.
At that point in my life, I had been doing interior design work as well as working on our family farm. Through a series of events I was introduced to a group of knitters who encouraged me to present them with some design ideas for fabrication in 100% alpaca. I started with three."
How did you come up with your initial designs?
"These first designs were based on my own personal style-- modern, youthful, colorful and fun. I knew that there were people who liked my style and wanted to feel as I had, stylish and beautiful, cozy and comfortable, luxurious and special in pure alpaca. I focused attention on every detail-- size, seaming, fit, tailoring, proportion, finishings and quality. My thoughts were and still are that alpaca, being a durable textile, should have a durable style, lasting the test of time and made to achieve longevity. Small nuances of trend make our knits fashionable, however as alpaca is extremely durable, I try to design styles that will last for years and still be desirable, not just en vogue for a single season, and out the next. The response I received on my first pieces was tremendous."
After fifteen years, how has your business evolved?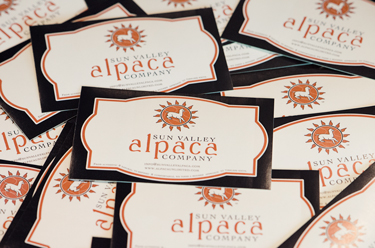 "Now, more than a decade and a half later, I can honestly say that the core values of our designs haven't changed. We have grown into a wide variety of brands, from women's knits to men's golf sweaters, accessories and socks. We craft home interiors such as blankets and pillows, and of course have a line of alpaca fur products for home and wear.
To create this diverse gathering of alpaca goods, we have expanded our production and work with more than a dozen knitting and weaving groups, each with their own specialty. We have knitters who also knit for some of the largest design houses in the world and produce our designs with superb quality. I have been told on numerous occasions that the construction is reminiscent of quality not seen for decades."
How has your design process changed over time?
"As time rolls by, new styles emerge; what is old becomes new again in fashion or is presented in a new and innovative way. My enthusiasm for designing is as fresh as when I began, with all the lessons learned along the way culminating in what I feel is my best work ever. Better still, I am afforded the luxury of working with a team of friends and family who help craft the presentation of our collections to the world. The spark of an idea has grown into a wonderful organization of passions and skills where we can share and collaborate.
I still have a love of sweaters, all knits really, and being in the knitwear industry, this passion keeps me in tune with the market, stylistically. Keeping in touch with our consumers keeps me on my toes, knowing that I am not designing for the masses, rather our pieces grace the shoulders of real people, are that something special under the tree at the holidays or that special piece given by a bride to her bridesmaids-- this inspires me to keep working to insure that the products we make really are treasures.
They say if you do something you love, you never really work a day in your life and I echo that."