Warrior Alpaca Socks - 16 Days Hiking & Rafting on the Colorado River
Posted by Kim DeVos-Brooks on 2nd Aug 2020
Here is the account by one of our friends - Jack B on his experience with Warrior Alpaca socks.
Years ago a group of my long time friends planned a self guided rafting trip. Last year we got our date, however with the pandemic we were't sure it was going to happen. I was fortunate enough to be one of the first groups allowed back in the Grand Canyon Park this year.
Packing for the trip was a challenge due to the duration and the lightness of which I had to pack. I knew from the start my Warrior Alpaca Socks would travel with me. I packed a few of my old favorites. As a model for Sun Valley Alpaca Co I know all about their Warrior alpaca socks and have worn them for years. I wasn't sure just how well they would stand up to the rigors of 16 days hiking in the Grand Canyon and white water rafting the Colorado river.
I knew from experience that alpaca socks would keep my feet warm in the 43 degree water - alpaca is the only natural fiber that actually generates heat when wet. The water was frigid and I found that my legs, which were submerged in the icy water went numb - but my feet did not. I soon got to test the heat theory and how alpaca wool protects them from heat even in extreme temperatures. Half way through there was a high heat warning - record temperatures of 112 degrees were not what I had expected. The warnings said that at that high of a temperature, hiking boot soles would melt, and hikers were cautioned from planing trips to the region. I was already there. My Warrior Alpaca Socks kept my feet comfortable even in those high heat temps. I found that when wet (which they were off and on every day) they dried quickly and I was able to wear the same pair day after day. They didn't look pretty by the time I was done but my feet were blister free and far better off than my fellow travelers who opted for cotton socks, wool or no socks at all.
My terry lined alpaca socks had no itch, even ladened with sand, and I was able to lay them out after rinsing the sand out at night, by morning they were dry. Alpaca is soft naturally but it is also hypoallergenic and anti-microbial reducing bacteria and athlete's foot. The other plus with alpaca socks is the natural odor control. I actually wore just one pair of Warrior Alpaca socks the entire time on the river. They were odor free and my feet didn't stink either. Since I had packed a few pairs I offered the extras to other rafters. To hear the experience one of the guys had who had traveled this route before and was an extreme outdoorsman, check out the video.
Generally a guy with sweaty feet, I find that alpaca socks are the best socks to manage damp feet because rather than absorbing the moisture alpaca wicks it, keeping feet dry in breathable shoes and boots. Unlike wool, alpaca slides nicely across my skin and reduces the rubbing which can cause blisters and irritation. Unlike cashmere and merino wool, alpaca doesn't tend to pill, further leading to abrasion where the patches of pills form. These patches make the socks thicker in those areas causing even more rubbing. Alpaca doesn't.
My days were filled rowing 226 miles with soaking wet feet and fighting 78 rapids. We did daily hikes in the canyon, and I have no idea the number of the miles we logged, plus setting up and deconstructing camp each day as well as frisbee and volleyball. My socks fought a tough battle. The temperatures varied greatly from dawn to dusk too. Other socks when wet have in the past caused my feet to stay cold, chilling my whole body. Fortunately this was a problem averted by wearing my alpaca socks. I had no chills and was really comfortable all day long regardless of what I found myself doing.
What I wore: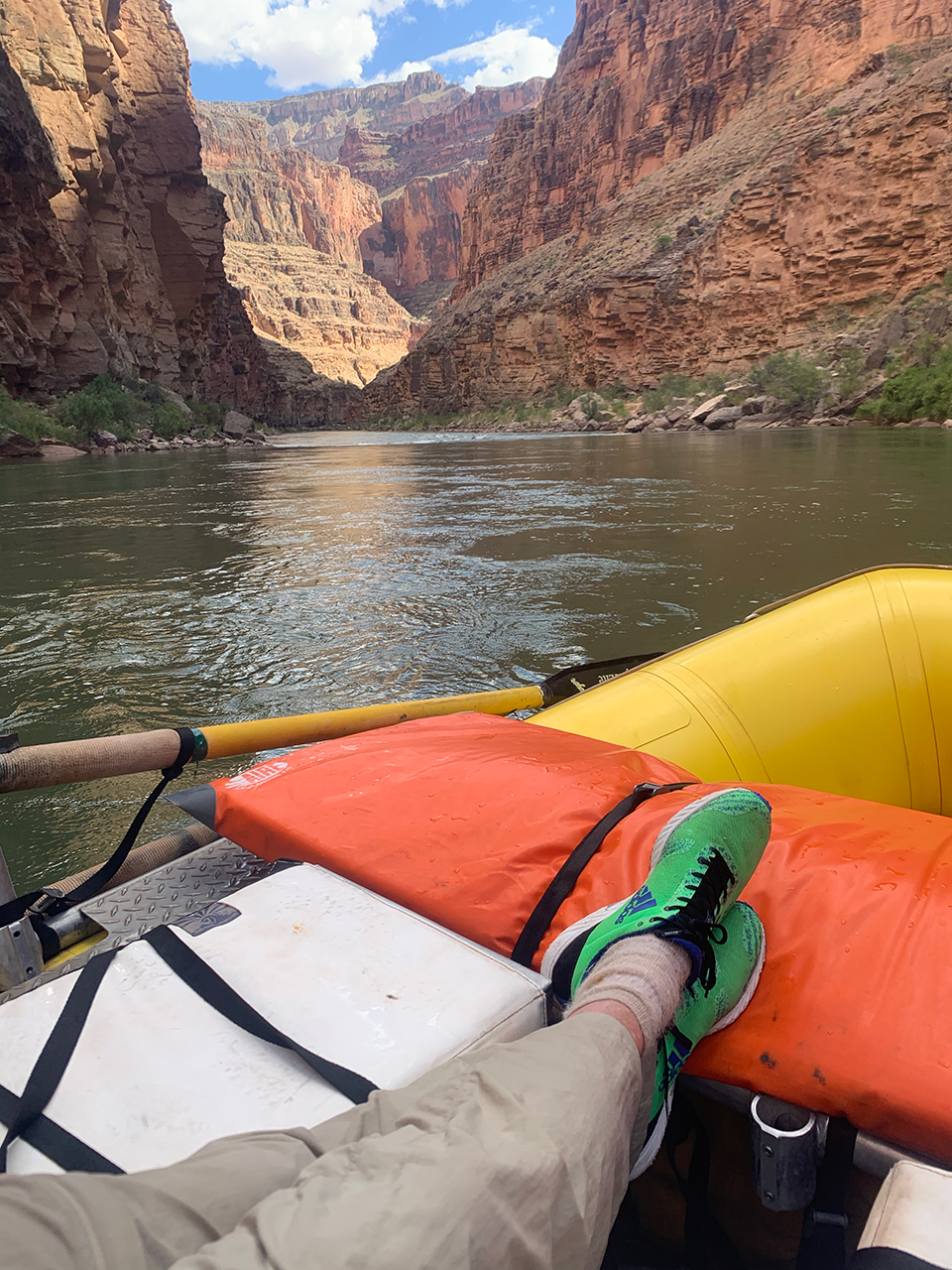 Warrior's High Performance Crew socks
What my companions wore: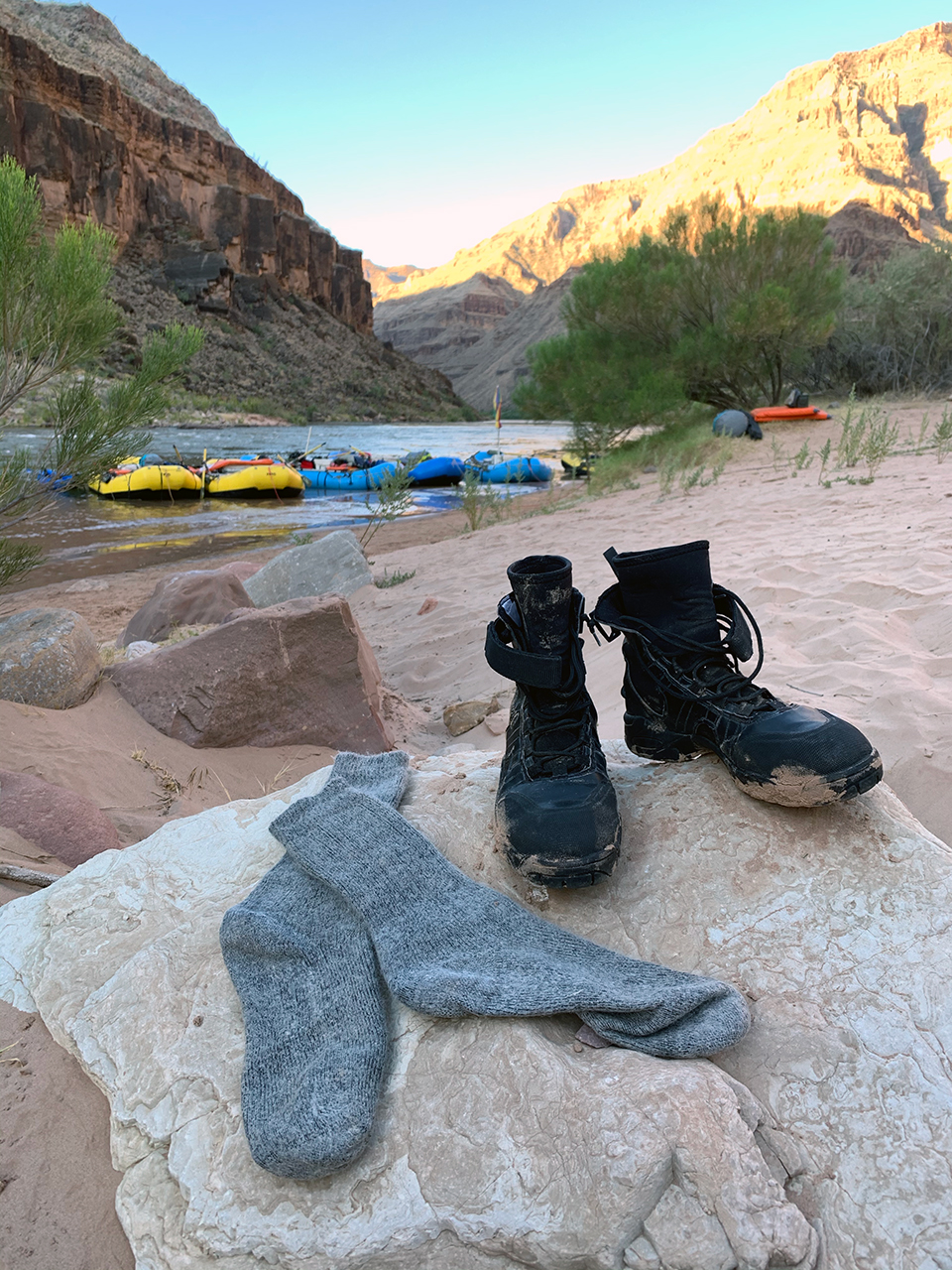 Warrior's Toasty Toes Ultimate Alpaca Socks / Not featured - Warrior's Outdoor Alpaca Socks.
In my opinion Warrior makes the best alpaca socks. Not only are they the most comfortable with superior breathability, they are durable and long lasting. They offer a wide variety of socks so I have loads options to choose what works best for work, sports or casual wear. I will definitely wear alpaca socks again on my next hiking trip without concerns that they will be too hot. During this trip I recommended them to the people in our group who were kayaking and rafting. I would also recommend them for anyone who spends time with wet feet like Jet Skiers, Fly Fisherman and even Scuba.
I arrived home in one piece with happy feet and while I have to say the socks were the worse for wear and there was no getting the dirt out. The price was nominal for the comfort and protection I received from one lone pair. They not only passed the "extremes" test, but came through, without holes or falling apart, cementing in me that Warrior Alpaca Socks are indeed the most comfortable and durable alpaca socks available.
Incase you're interested in the specifics about Warrior Alpaca socks, here are a few questions folks asked along the trip (Answers provided by Warrior Alpaca Socks):
Why are alpaca socks good?
Alpaca socks are naturally strong and durable, but because the alpaca wool is silky smooth and soft, it slides smoothly over feet preventing blisters and abrasion. Furthermore alpaca wool socks make a wonderful insulator, protecting feet not only from cold but from heat and moisture. Naturally Hypoallergenic and anti-microbial, alpaca socks create a healthier environment for feet, reducing odor and bacteria.
You might ask "aren't alpaca socks warmer than wool?" Because alpaca wool fiber has hollow pockets inside each minute hair, it is warmer in cold conditions but it is also lighter weight and thermally insulating than other fibers and completely comfortable for four season wear. When compared to wool socks of the same weight alpaca is by far warmer, however unlike wool socks it holds less moisture (8% compared to sheep's wool at 30%) reducing humidity around the feet keeping them more comfortable. When the weather heats up, alpaca's pockets of air act just like insulation for your home, protecting feet from heat. Alpaca outperforms wool hands down keeping feet, and you, at the perfect temperature winter, spring, summer and fall.