Our Warmest Alpaca Socks
Posted by Kim DeVos-Brooks on 21st Nov 2018
The alpaca is an animal revered for its fantastically thermal and super soft wool. Feel the difference that alpaca wool can make in your wardrobe, beginning with socks.
Our Alpaca socks are made to be durable and cozy, and the natural properties of the alpaca wool make them healthy and warm too. Your toes will be happy you chose one of our great pairs of warm alpaca socks.
A relative to the llama, these hardy animals thrive in mountainous climates of South America. The fur or wool they grow protects them from the drastic weather swings in the Andes mountains; from ice cold to warm sunny weather is not at all uncommon and often it all happens the same day. With Warrior Alpaca Socks we have harnessed the many benefits of alpaca wool for you so it can protect your toes, and in effect, your whole body, in the very same way.
You can enjoy these warm, soft, cozy and luxurious socks yourself, in many different colors and styles - We have styles for every person - every age - every interest. Our Alpaca socks make wonderfully unique gifts for that someone special, or the hard-to-buy-for person we know and love.
How does it work? Well, alpaca wool does not absorb moisture. Instead, it gathers the moisture your feet create between each micro fine hair and the warmth from your body causes it to evaporate, keeping moisture away from your skin and thus you are kept dry and toasty. Because no moisture settles in them, unlike merino wool, cashmere, even cotton, they stay sweeter smelling longer too!
Many of our Warrior Alpaca socks are all-season socks, so you're sure to use them from season to season, with boots, Birkenstocks, loafers, dress shoes, even outdoor and sports socks are available. You'll find our alpaca socks in patterns and solids and from no-show to knee high and every height in-between.
The benefits of all natural alpaca are many; they help protect your feet not only from moisture, but also callus build up, friction which can cause blisters, and thermal protection - cool in the heat and warmth in the cold - and that's where they shine! Try our warmest alpaca socks today and treat your self or someone special to something special.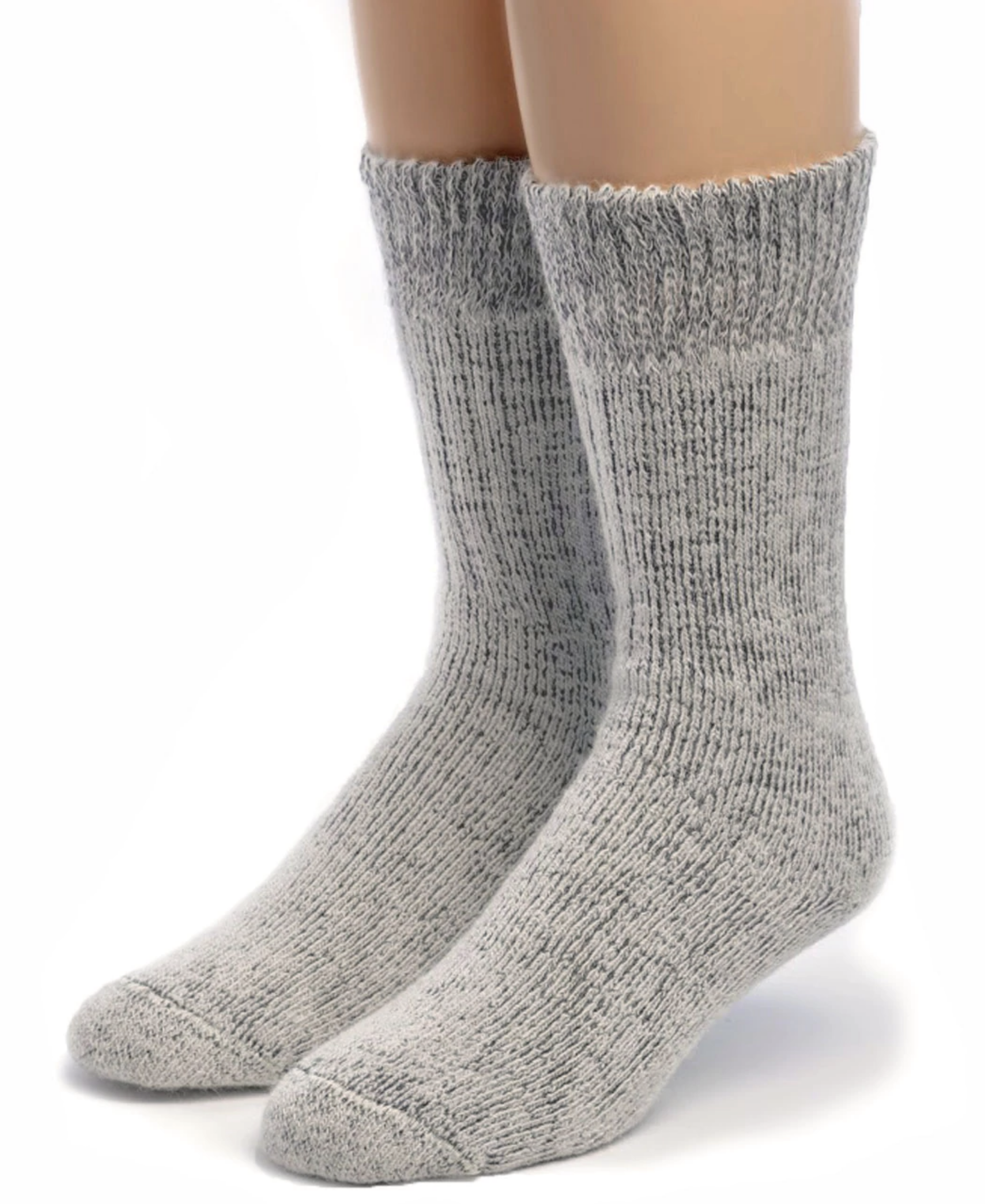 1. Ultimate Alpaca Socks
Made with a propriety blend of alpaca fiber, our Ultimate Alpaca Socks have a comfort band for long and comfortable wear. Feet stay nice and dry with the special toasty toes alpaca lining. Choose from five different colors- gray, pink, baby blue, light gray, and black.
These socks are fully lined and reinforced to protect feet from cold, wrapping them in pillows of soft, cozy alpaca wool. Naturally hypoallergenic and safe for all people even those with wool allergies. Stay dry and warm with these socks that are the ultimate in comfort. They have ribbed uppers and are made to have a cushy fit. These socks can make shoes fit tightly and blended with acrylic for easy care. Your feet will long for them at the end of a hard day.
All of our wool is carefully chosen for its quality. Try these socks and see just how soft and cozy they are. They come in four Unixes sizes - great for people of all ages!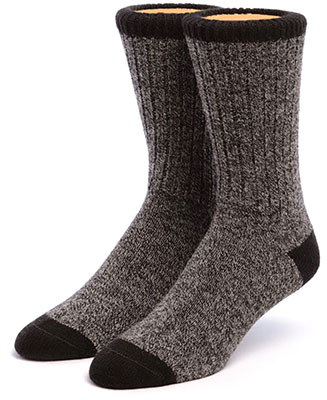 2. Base Camp Alpaca Socks
These socks are specially made to help protect against cold weather. Our unisex socks are black and gray marl with a black toe and heel. They have a flat knit made from alpaca wool, and while being thick, they don't offer the terry lining of our other socks which some people prefer. This affords the ability to wear them with boots and shoes that otherwise might become tight, while still offering warmth and providing thermal insulation.
This type of sock was made especially for hikers and walkers, it is superb when it comes to reducing moisture and eliminating odor, two essential things when hiking especially on overnight expeditions. These reinforced have become so popular even those who don't hike will love them. Super strong and durable, they will hold up for miles and miles. Like all our Warrior Alpaca Socks, the Base Camp Alpaca socks are machine washable.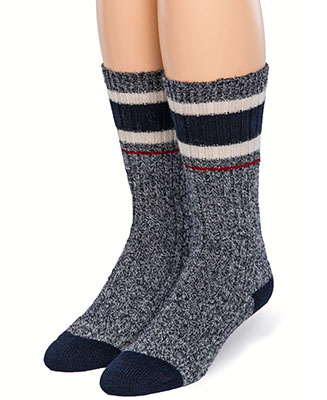 3. Old School "Ragg Wool" Striped Alpaca Socks
Try out the newest offering in our quality alpaca wool sock line. It has a bold old-school athletic pattern or choose from our fun alternating stripe version. Both are available in a crew height. Ragg wool socks are known to be warm and durable, and the alpaca wool and thick knit construction take these a step farther. A favorite with both men and women, this is the kind of sock you long for on casual weekends, out strolling or just buy the fire relaxing.
The natural alpaca wool provides the finest thermal insulation, and due to a dry environment, they offer better overall foot health.
Order your alpaca socks today and experience the difference firsthand. You will love them, as will your friends and family. Give these as a gift to yourself or loved ones, and always have happy, warm and comfortable feet no matter the weather.