How To Find The Perfect Alpaca Throw For Your Space
Posted by Kim DeVos-Brooks on 6th Oct 2020
Decorating with timeless and classic alpaca throw blankets, from Farmhouse to Mid Century and Modern - find the perfect alpaca throw for your space.
Alpaca throws are some of the most luxurious blankets you will ever want to snuggle under, but just what makes them that way?
Alpaca fleece is exceptionally light, downy soft, and silky - it just feels better than other textiles. Each fiber is 1/5 the width of a human hair, but tucked inside that minuscule strand are pockets of air which act as natures perfect insulator - trapping air that is warmed from your body heat, but that is really only half the story… Alpaca has a very low absorption rate, far lower than sheep's wool or cashmere. So as your body expels moisture it doesn't get trapped in the blanket, rather it is wicked to the surface and evaporates. I'm sure you've wondered why after a while under a blanket you get too hot. The blanket is holding your humidity and its compounding. Alpaca lets that humidity escape keeping you at the perfect temperature for the ultimate comfort and relaxation.
Alpaca became popular in the USA in the 1950's so it has a wonderful Mid Century Modern style inherently. With purists, the mid century vibe calls for graphic patterns like our Spellbound Throws, to be paired with a black leather or vibrant color couch or chair.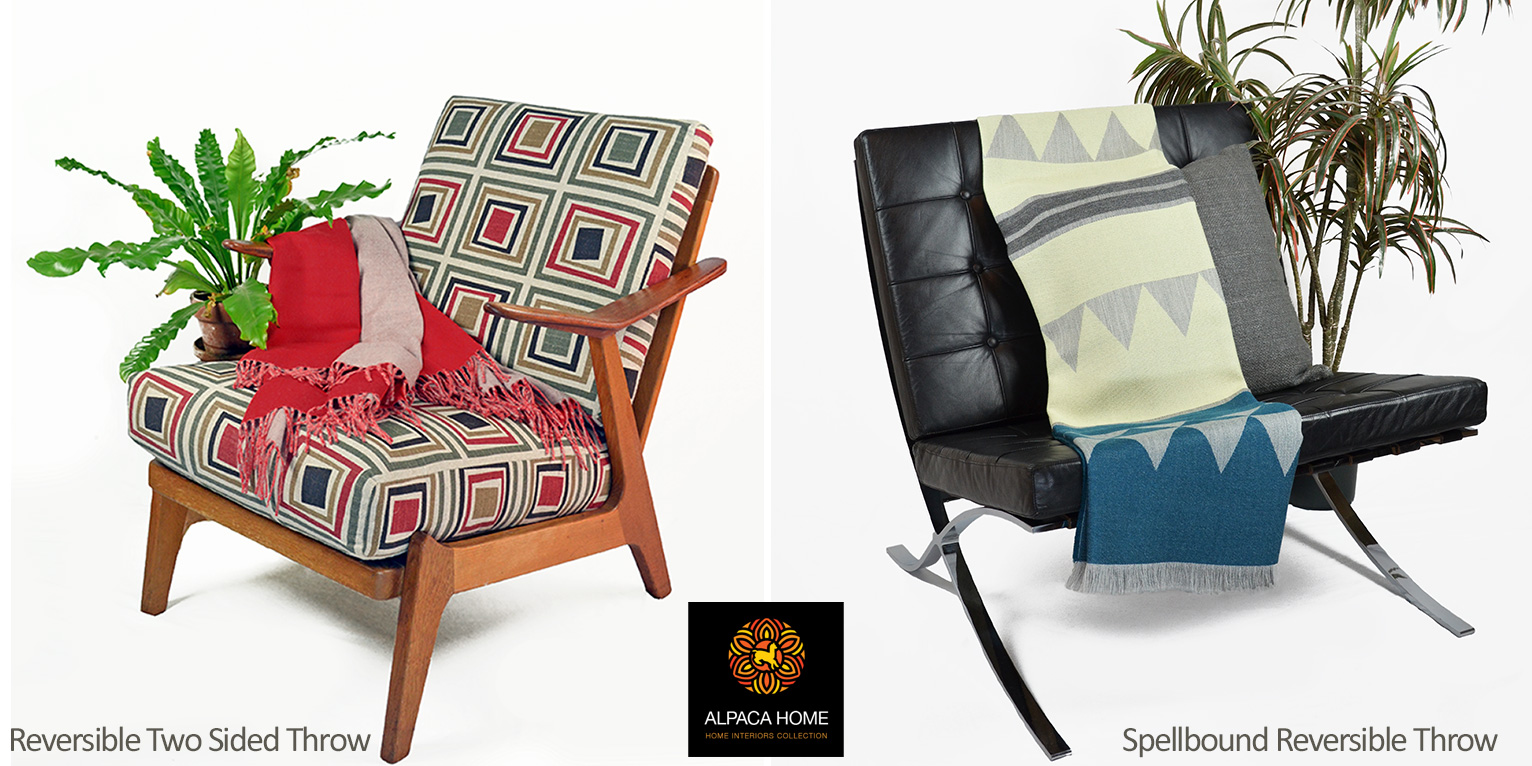 Today, with the mix of mid century aesthetics, the look of the 21st century calls for highly saturated Solid color throw or even a Reversible Two Sided Throw, both of which come in a multitude of colors. Alpaca Home's vast selection of patterned and solid color alpaca throws provide the widest selection of choices to compliment your color scheme.
All things natural is a core principal in any Norwegian or Scandinavian living space. This is alpaca's niche - pure, natural, sustainable and down to earth. Dye-free natural tones, of which alpaca has more than 22, are a prerequisite, providing the essential glow of soft earth tones absolutely enriching any nesting space. Our Liam Alpaca Throw Blanket shines in both natural and dyed nature inspired multi-dimensional hues, with quiet eyelash fringe. The Cityscape throws have the same tweed look, but with traditional fringe. Rich earth tones fill a living space with grounded elements while a natural charcoal or off-white is central in every Minimalistic and Scandi style surrounding. The addition of tassels found on our Tassel Frame Reversible Throw have an earthy bohemian vibe not to be missed.
From Solid to highly Patterned, Plaid to Chevron, Herringbone and more, Alpaca Home has your perfect throw. Visit our complete collection here.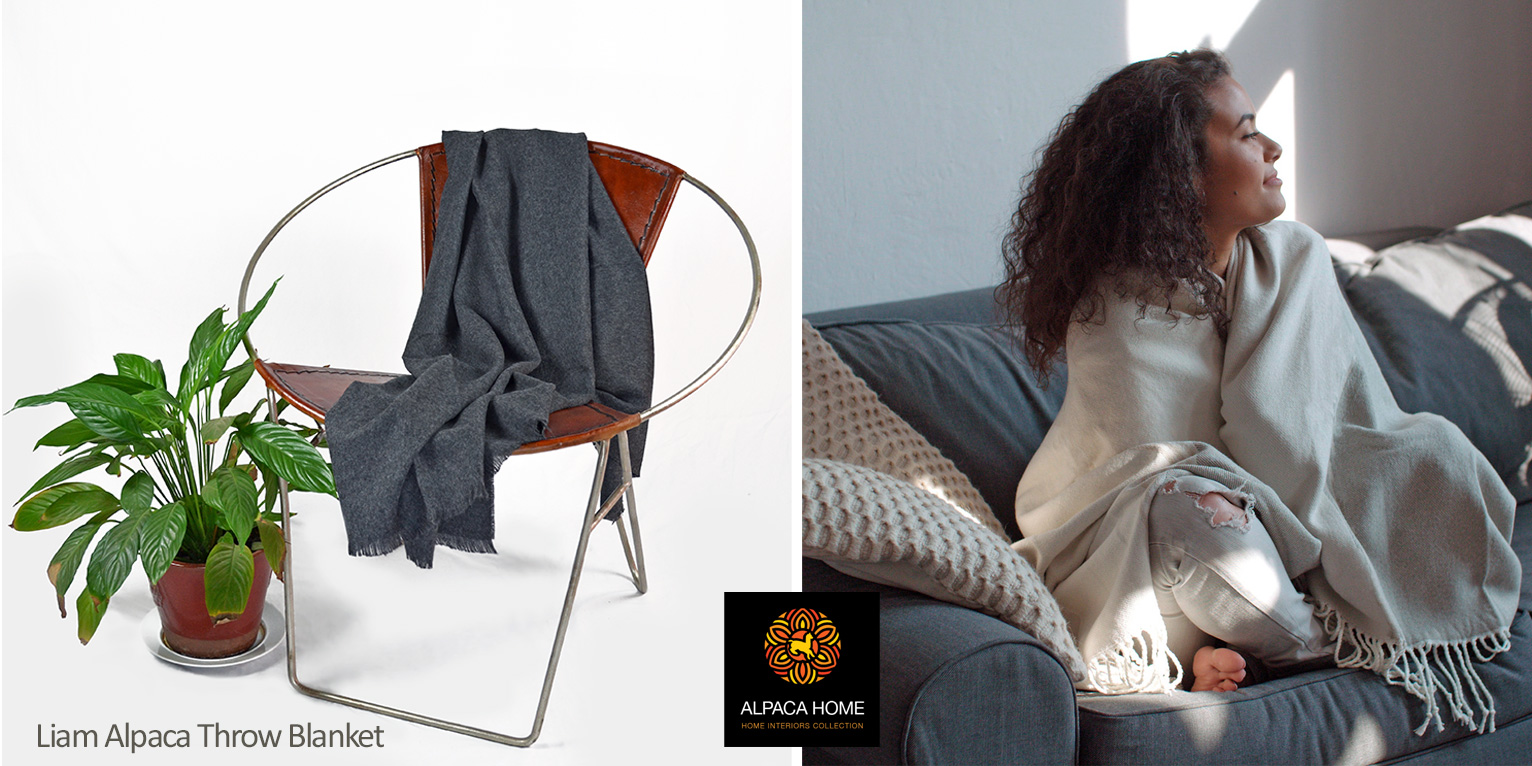 We hand craft the perfect throws for people who love soft, cozy blankets. We've been making 100% Alpaca Throws, clothing and more for more than 20 years. Alpaca throws are not at all coarse or itchy, nor are they heavy or bulky, guaranteeing the perfect cuddle. People are amazed that alpaca throws are as thin as they are and yet provide superior warmth. You'll find they are warmer and lighter than wool, while being far more durable and longer lasting than cashmere.
A farmhouse aesthetic is all about layering elements. We love how the placement of an alpaca throw warms up wood and softens the harder materials. Pair it with the perfect pillow and you have an inviting space filled with color and texture.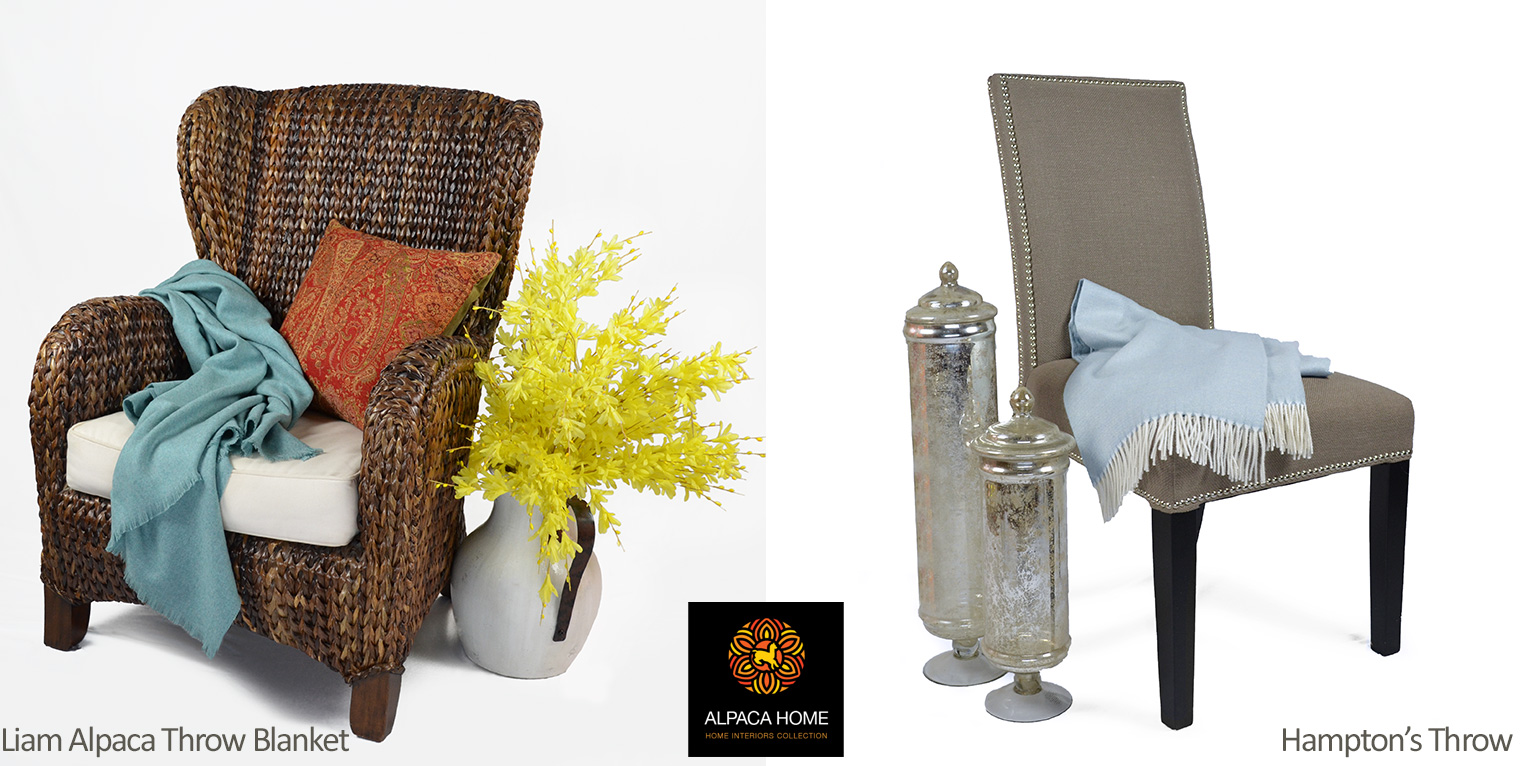 Warmth and softness are never lost on Contemporary and Modern environments either. Match the glitz of Hollywood Regency with our Hamptons Throw, you'll love the complimentary style these throws provide.
Create the perfect space, from a nursery, to a dressing room or even an office. The addition of an alpaca throw, like our Monopoly Throw will instantly soften and warm the room and be within arms reach when needed. Don't forget the bedroom, guest room or outdoor living space, create the coziest of environments for your guests to enjoy. The addition of an exceptionally soft Alpaca Fur Pillow will delight young and old alike.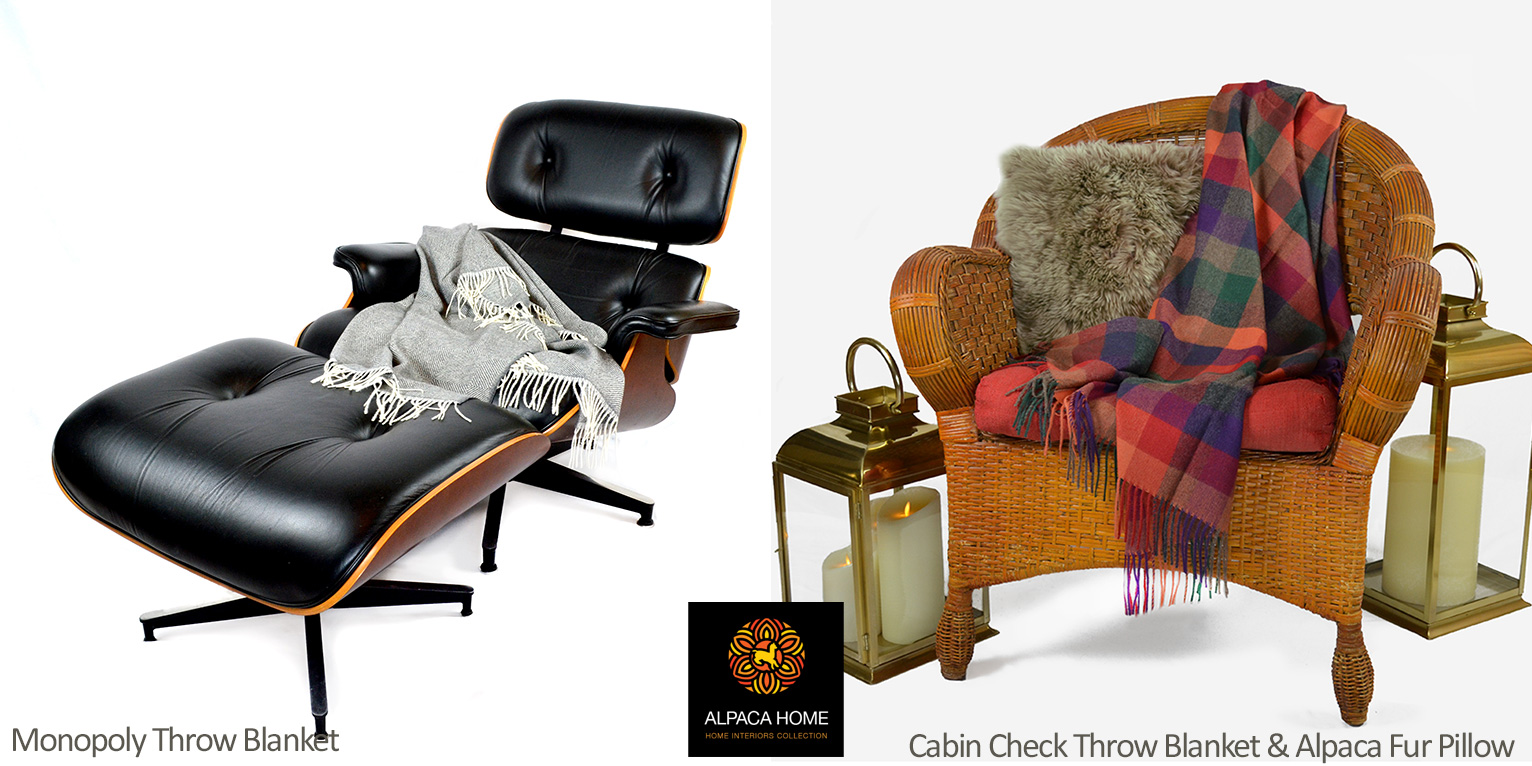 You might ask are the alpaca throws warm? Yes!
Alpacas' fleece has evolved to protect them from the wide temperature swings found high in the Altiplano regions of South America. It is not unheard of to see temperature swings of 50 degrees or more within one day. The alpaca wool protects the animals from these harsh climate changes, keeping them comfortable no mater the temperature, and it does the same for humans too.
Exceptionally durable, alpaca is one of natures strongest materials, and completely hypoallergenic. Free from lanolin it doesn't cause allergic reactions and holds less dust that comparable wool, acrylic or cotton throws, making it superb for those with sensitivities to dust and airborne particles. Unlike cashmere it will not pill and will last for years.
Alpaca throws add sublime texture, inspiring color, inviting comfort and unparalleled luxury to many an interior, but more importantly, they help to relax, comfort and celebrate time spent at home.
Alpaca Home. Come home to comfort.